ENGLISH PAGE
Sui International Preschool Kindergarten class
A gift for children, 20 years from now
About us
Our history started in 2015, founded as a branch of a neighboring Japanese kindergarten.
Sui began as a language immersion preschool for ages 2 and 3, based on the Creative Curriculum from the US. It was a place where toddlers could explore and discover through various experiences while having a lot of fun through play.
In 2017, Mitsuyo Arahata, the former vice-principal of the head Japanese kindergarten, decided to independently expand her vision and launch her own kindergarten class. Supporting this decision was a group of committed preschool parents who wanted to have a place where their children could continue their immersion learning. There was also Mitsuyo's own strong will to create a better place for the children, where they could be eager learners in an environment of two language immersion education. These elements set everything in motion to open a small kindergarten, along with teachers who had great life experiences and knowledge in early childhood education.
That is today's Sui International Preschool.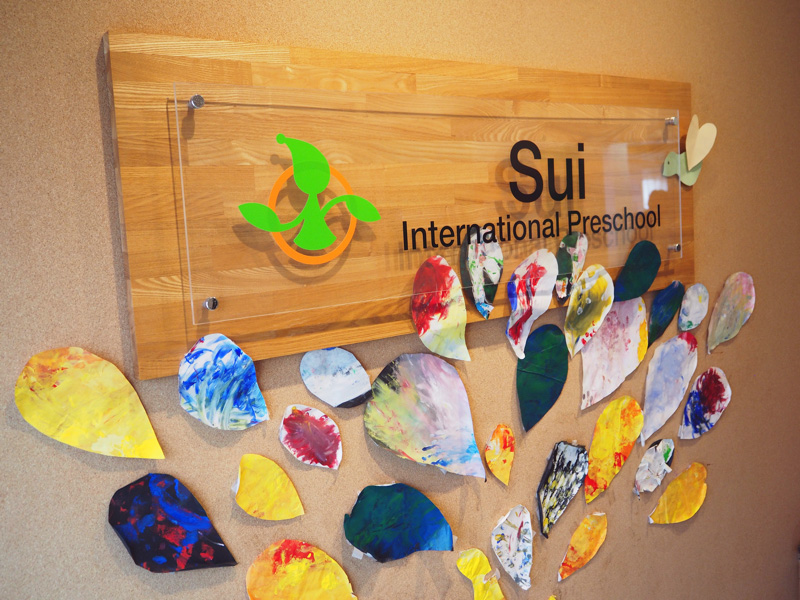 Since then, Sui has been driven by our core of learning, "inquiry". We value every child's novelty, curiosity and wonder, because we know that's the seed of their learning.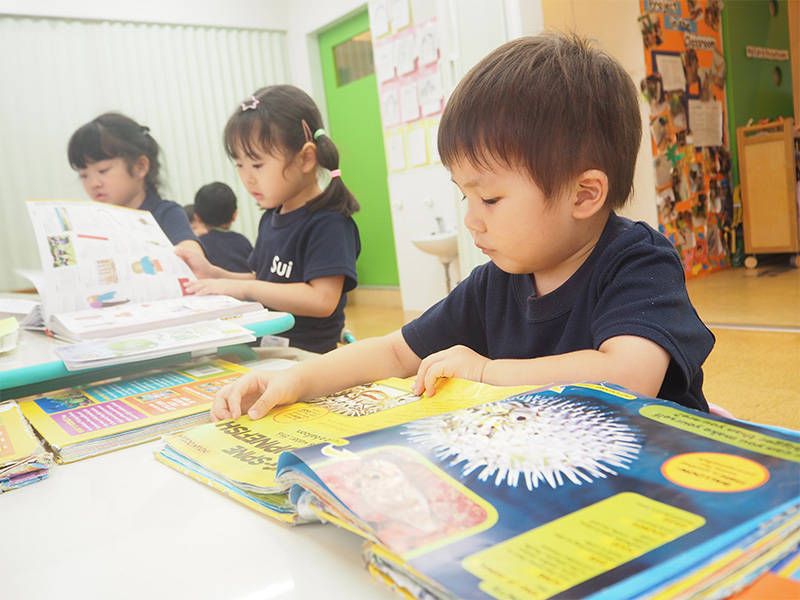 The education that children receive at Sui can be thought of as "a gift to use in 20 years." In about that time, the children who are in kindergarten now will become members of society, operating according to their ideals about life and their attitudes towards learning. At Sui, we strive to foster a specialized environment that nurtures these ideals and attitudes, and builds a strong base for their future as productive members of society. It is our mission to not only uphold a philosophy of teaching, but also see the results of education in practice 20 years from now, when we look forward to the children recognizing the fruits of their labor.
※Sui has been certified as a non-licensed nursery school in Tokyo. We follow strict regulations and operate the facility with the safety of the children as our number one priority.
The power of a small class in a tiny school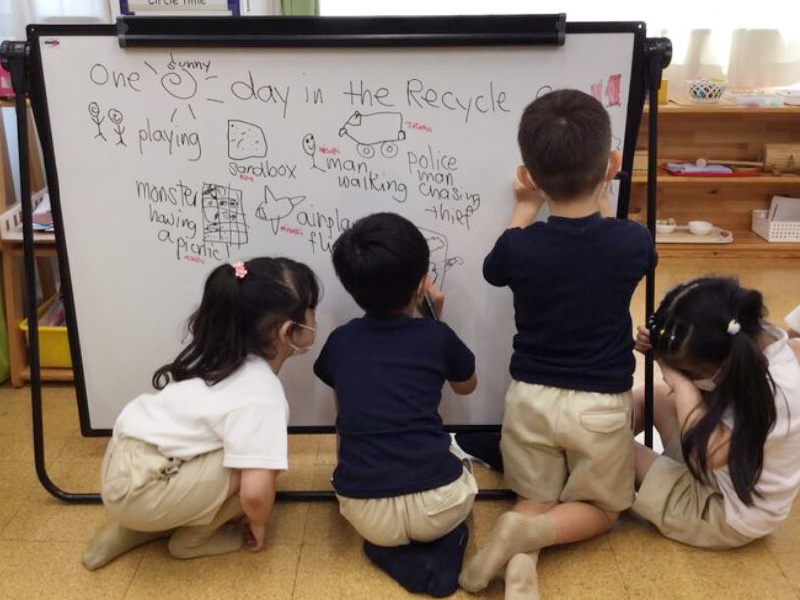 Sui is a small school at just 100 square meters. Thanks to its small size, however, we can build a careful and detailed educational environment that caters to each individual child. We foster self-esteem and nurture children who can think for themselves and become leaders. By learning in a quality educational environment during this critical period of a child's life, a period where they can absorb everything they experience, they can connect their interests to intellectual curiosity and inquisitiveness.
The 6 Educational Policies of Our Kindergarten
While nurturing each child individually,
we will boost their "Six Powers" with help and guidance.
1, The Power of "Language"
It's not just learning English, but rather, living in English—this is the definition of "immersion." At Sui, in an environment of immersion education, the children can listen naturally to English and develop the skills to communicate in English without hesitation or restraint.
The children at Sui speak English in their daily lives and in conversations with their friends. We encourage positivity and confidence around the children's English capabilities, both at home and at school. By doing so, they will be able to convey their thoughts and feelings in true, natural English by the time they graduate from our Kindergarten.
Intertwining Japanese and Global Education at Sui
In Japan, true Global Education can only be achieved by nurturing the children's abilities to express themselves well in Japanese. The ability to think in their mother tongue is vital for development.
The very basics of learning are experienced during early childhood. It is important to nurture those basics through phrases, words, expressions, songs, and stories that are unique to Japanese culture.
At Sui, we incorporate "Japanese Time" into our immersion program to help the children comprehend grade-appropriate material by the time they graduate and reach elementary school.
One of the key characteristics of Sui's children is that they learn two languages—English and Japanese—at a level appropriate for their age.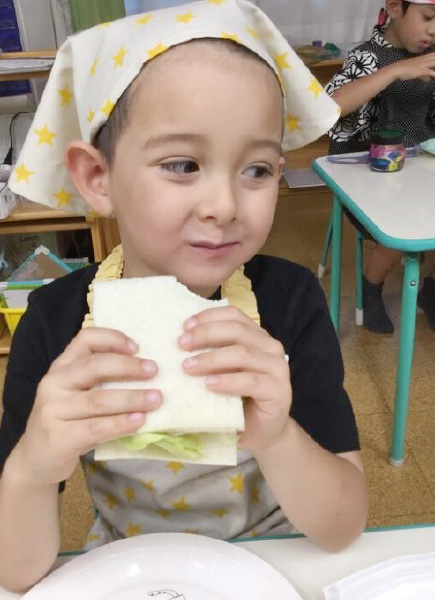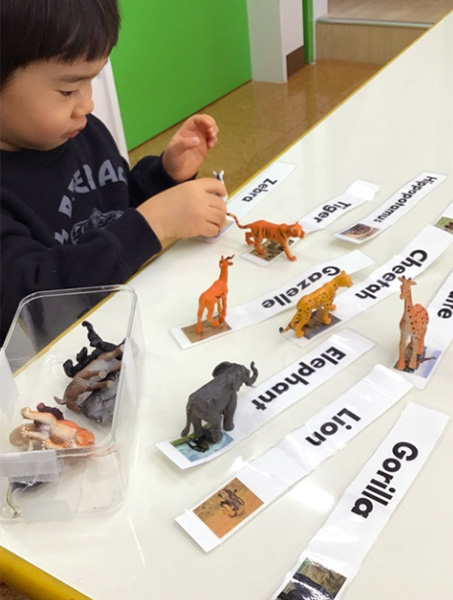 Learning English isn't as simple as being placed in an English-speaking environment. The children at Sui, who enjoy English and use it naturally amongst their friends, are the result of a rich educational environment that can only be achieved with a small and intimate class size.
The children at Sui have access to a wide range of educational opportunities, from public and
private elementary schools, to national and international elementary schools.
These opportunities are made possible by strengthening their confidence in the power of "Language."
2, The Power of "Learning While Having Fun"
Children learn a lot through playing, and it is important to develop motor skills and physical abilities through working both the mind and body. In order to nurture individual thinking and active learning, children at Sui are given experiences that fully exercise their mind, body, and the five senses through play. Through this kind of fulfilling play, we can nurture stable emotions, an interest in the environment, and the children's abilities to think and act on their own.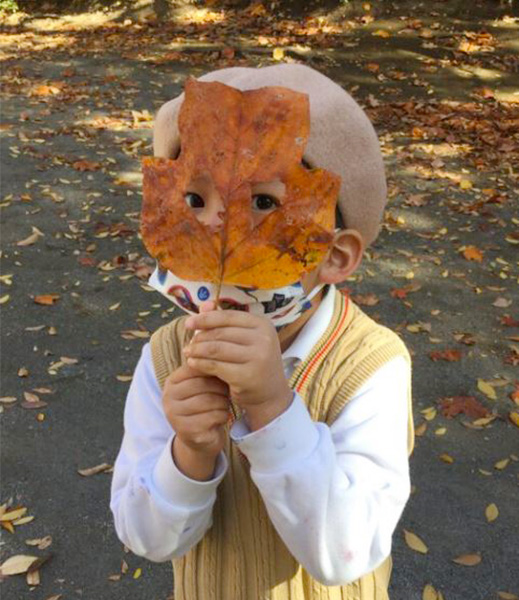 3, The Power of "Inquiry"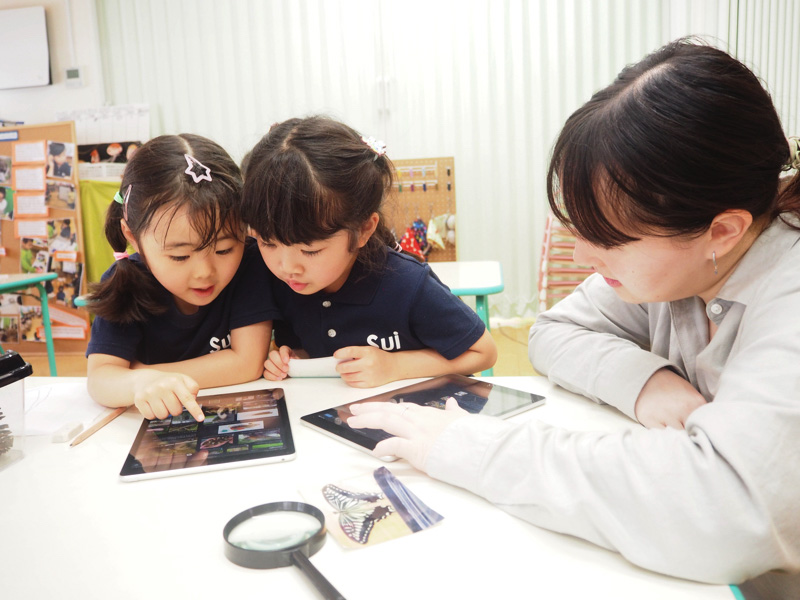 Experiences from early childhood creates the foundation of all future learning. According to a study, people develop physically, socially, emotionally, intellectually, and artistically the most during this period. This is the most important time of learning.
Inquiry-based learning brings forth children's learning motivation and challenging spirit that lead to great discoveries. With these discoveries, new questions arise from the children, and that will become true learning beyond the separate subjects.
In inquiry-based learning, we sometimes encounter global topics beyond the school subjects. Children bring with them varied backgrounds and cultures, and they share their experiences at school. They learn beyond the boundaries of their small communities, and develop their understanding towards others to have a better sensibility. This is fundamental to nurture their international mindedness and perspectives. Their skill of having sympathy for others is especially required for this. At international schools, we value education with diverse international perspectives.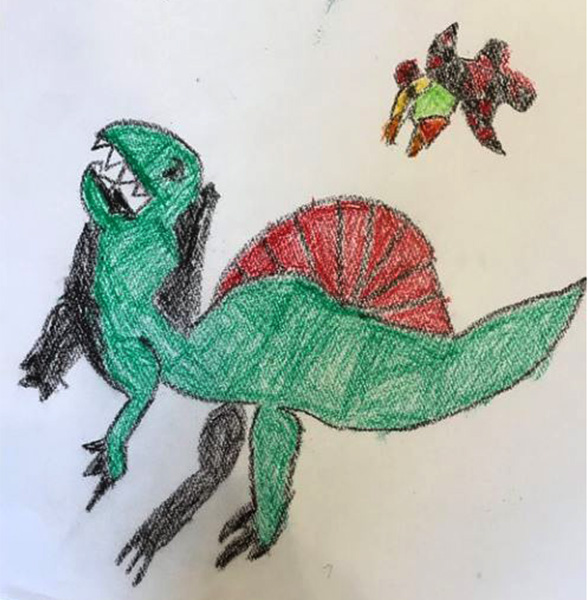 Project Learning Report
Sometimes, our projects continue over the span of a year or more. In this report, the interests of the children are summarized along with their discoveries and outcomes. Through this report, you can get a sense of the children's curious perspectives and how they are expanded by asking questions based on their own detailed observations. Facilitators with specialized knowledge (teachers) help children answer their questions to gain deep understanding, critical thinking, and experience.
4, The Power of "Rich Experiences"
Children are curious beings who wish to see, wish to know, and
wish to touch. The curriculum at Sui Kindergarten is organized so that children full of curiosity can have many rich experiences suitable for their developmental age. It also includes learning about Japanese culture, which the children can then cherish and value. Learning through rich experiences is an asset that the children will carry with them for the rest of their lives.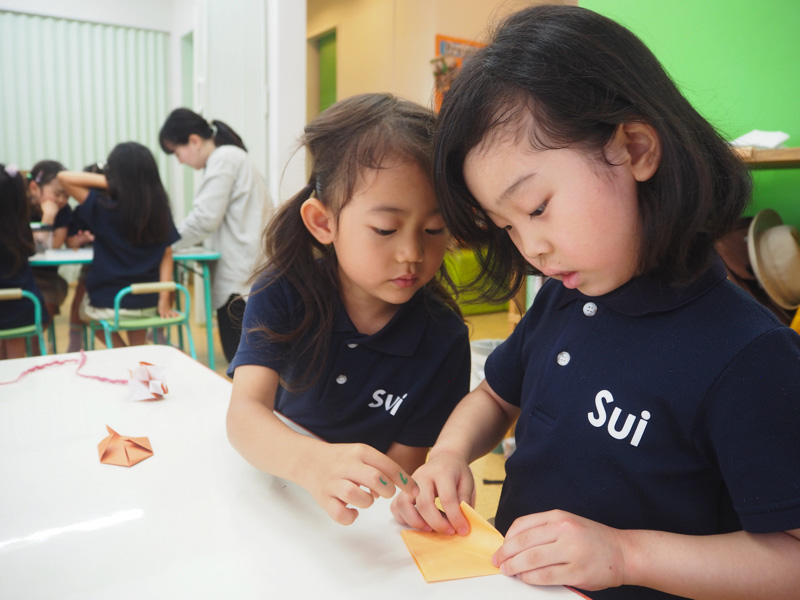 5, The Power of "Self-Esteem"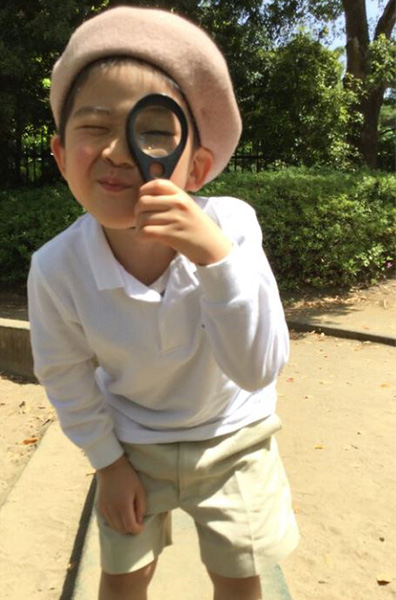 The word self-esteem is often difficult to translate into Japanese.
While it is sometimes translated as selfishness or arrogance, the true definition could not be more different. For native Japanese speakers, it can take some time to understand that self-esteem has a very positive meaning and connotation.
Self-esteem is the feeling of cherishing and valuing yourself, self-affirmation and confidence, and being comfortable with who you are. It allows us to respect other existences and identities, accept differences as a matter of nature, and understand that those differences have meaning and importance.
Cultivating self-esteem is necessary for building social skills, cooperation, autonomy and independence.
6, The Power of "Teachers"
Sui International Preschool operates on the mindset that "everything we do is for the children." We pride ourselves on our enthusiastic teachers who pour all their effort into creating a thorough curriculum that enriches the school's education and accommodates each individual child. The teachers at Sui International Preschool, who consistently strive for their own improvement, are treasured and are the very essence of our school.
Teacher Training
Through regular teacher training, we aim to improve each teacher's awareness and teaching skills. This training covers a wide range of fields, including on-site training with early childhood education specialists, as well as standardized training for Tokyo nursery school staff. Our teachers have an overflowing passion for learning and teaching based on the school's mindset that "everything we do is for the children."
All of our teachers have proper experience.
Staff Training
Sui's staff receive quality training alongside the teachers. Our staff have strong interests in education, and always treat children with kindness and sincerity.
School Advisor, Kindergarten Teachers, Preschool Teachers, Nurses
At Sui, we have experienced kindergarten teachers, preschool teachers, and nurses who are licensed in Japan and overseas. Our experienced teachers who are well versed in education and childcare provide parents and guardians with early childhood care that builds the foundation for important human development. In addition, our academic adviser
Dr. Haseyama, who teaches at Simon Fraser University in Canada, guides children in a world-class educational program with trong ties to overseas culture and education.

Specialized Lessons
At Sui, the children experience lessons with teachers who specialize in dance,
physical education, and calligraphy. Under the guidance of experts in fields that are considered necessary for early childhood development, the children build motor skills and expressiveness as they grow.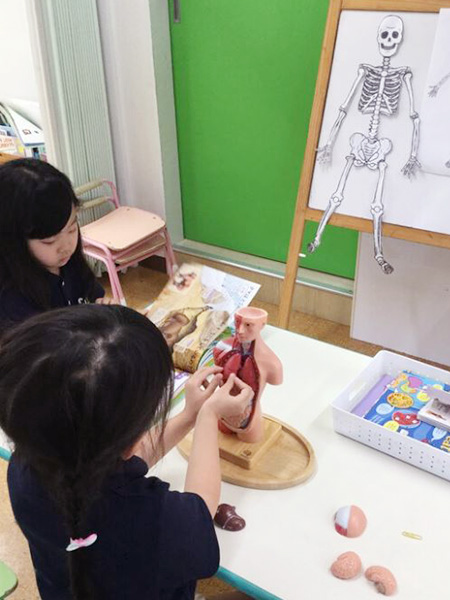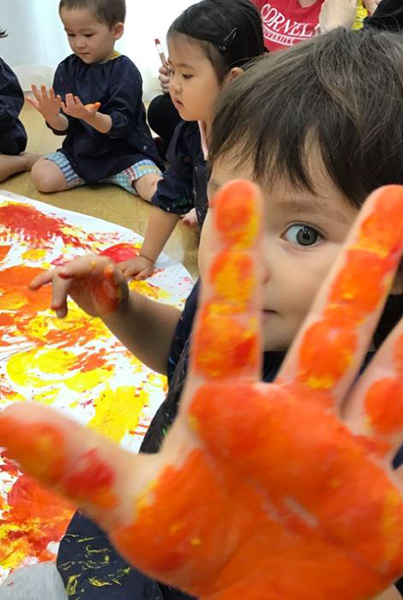 Career paths for graduates 2017 – 2023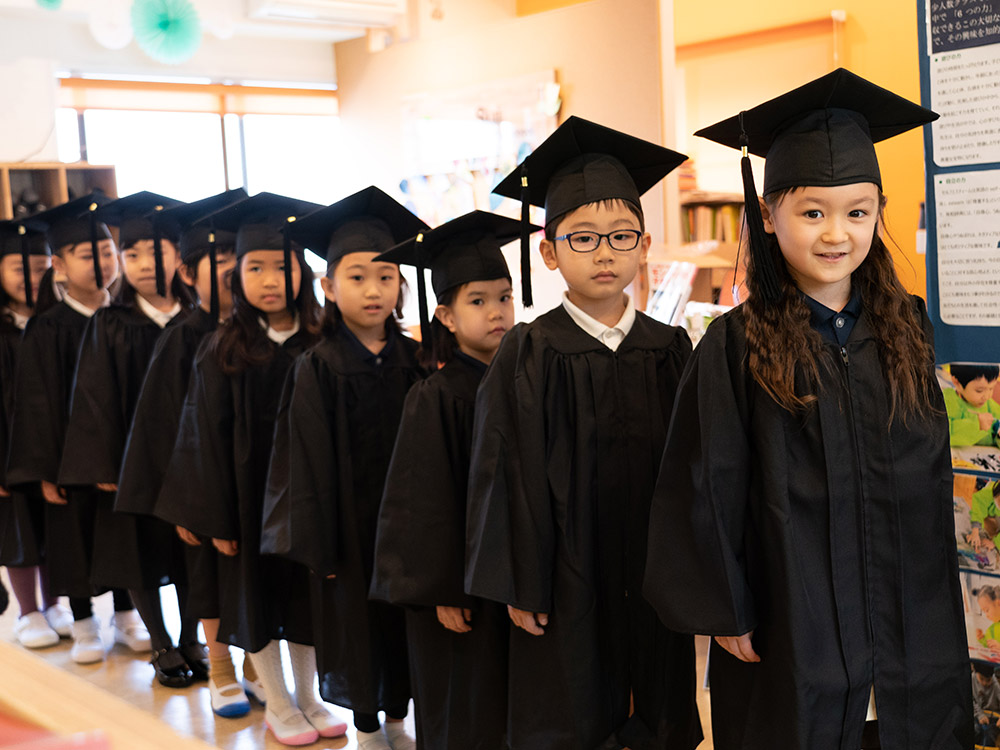 While spending their precious early childhood days in English, children naturally acquire the ability to think and problem solve, independence, exploration, language skills (English and Japanese), and play skills through rich experiences, nurturing the skills they will need for themselves 20 years from now.
Sui children have a wide range of career paths.
Here are some of the paths they have taken so far.
Tokyo Gakugei University Elementary School
Tokyo Tachikawa Kokusai Elementary School
Shotoku Gakuen Elementary School
MEISEI Gakuen Elementary School
Public Elementary School
Free School
Malvern College Tokyo
TOKYO WEST International School
Colombia International School
MUSASHI INTERNATIONAL SCHOOL TOKYO
America/Egypt/India/Indonesia/Germany/Hong Kong
Elementary schools in various countries